Hair is a woman's calling card. With their help it is possible to make a good first impression or on the contrary to spoil it. Even if a girl has perfect makeup, no one will pay attention to it if her hair is untreated and weakened. 
It is very important to take care of your hair properly, so that it doesn't lose its vitality and beauty. How can I get my hair cut or colored without damaging it? We'll discuss safe methods and show you some great styling tricks.
Why you shouldn't make drastic changes to your hair color and hairstyle.
Many of us love to experiment and are eager to try new things – including doing hairstyles and coloring that will change the appearance of our hair. But not all of us think about what this will do to our hair in the future. Worst of all, some people do their own beauty experiments at home, not realizing how aggressive coloring methods will affect the structure of the hair.
Ideally, have your hair styled and dyed by a professional. He will assess the condition of your hair and will be able to tell you if your hair is strong enough for certain procedures. In addition, he will be able to offer alternatives if it turns out that the current state of your hair does not allow you to do the desired hair style or coloring.
One more important point: not all of the beauty experiments are successful. Maybe you want to dye your hair pink, but after dyeing it you will realize that this color does not suit your skin tone. It turns out that you dyed your hair for nothing, and you will have to go back to your previous color. And the more radical coloring – the more damage we do to our hair.
A colorist in a beauty salon will help you understand if a particular color will suit you, possibly pick up the right shade that will look better. He will also tell you what type of hair this or that haircut suits. You'll protect yourself from mistakes and disappointments, not to mention the fact that you'll prevent unnecessary stress to your hair. Don't forget that the most important thing is the health of your hair.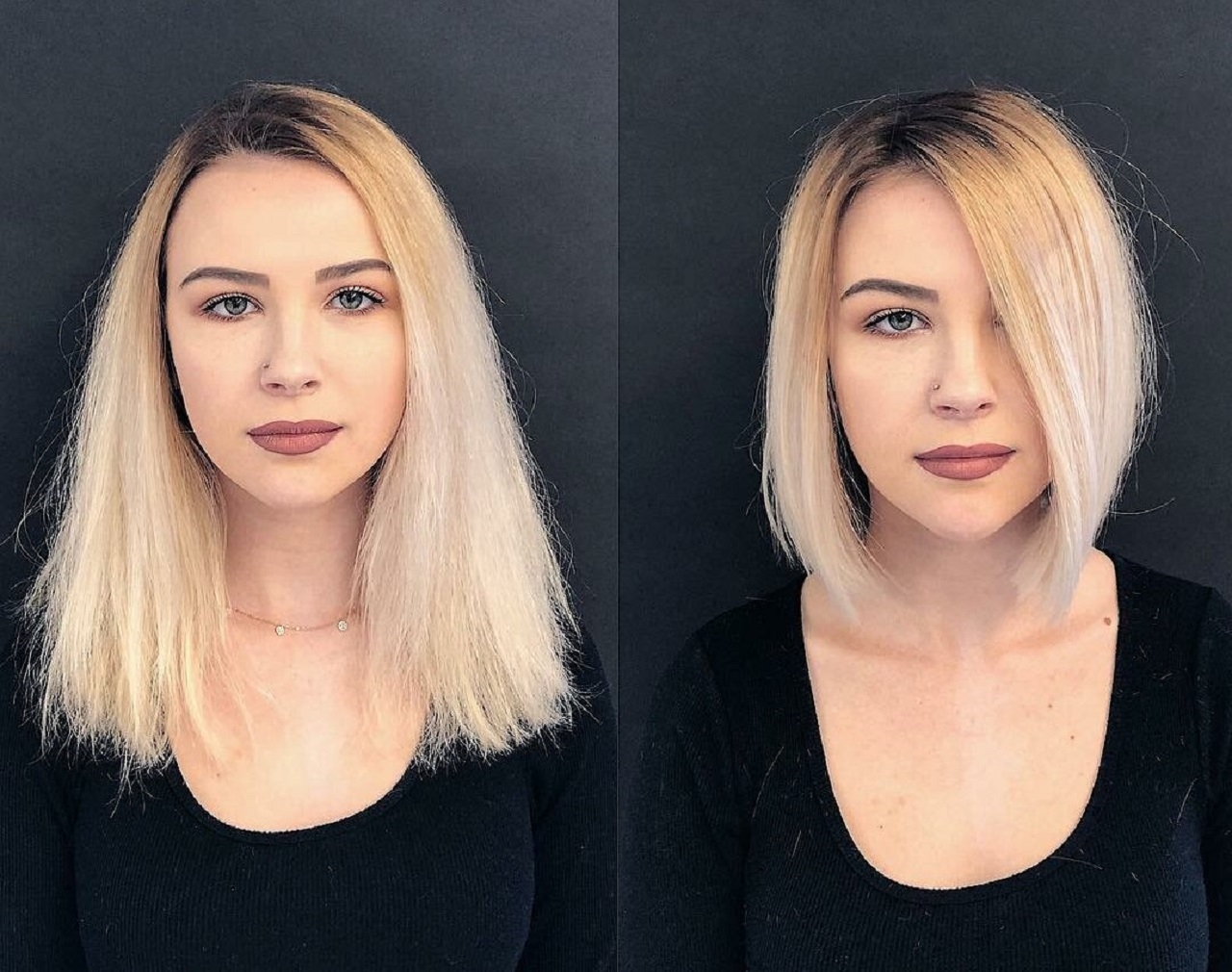 How to change your haircut without making drastic changes
Want a change, but don't want to lose length? Many women want to refresh the hair, but are not ready to say goodbye to long curls. This is perfectly normal. You don't have to sacrifice length to transform and change your look. Here are a few simple ways to change your haircut without losing length:
Experiment with the parting
Different partings (side and straight) can hide flaws and accentuate strengths. For instance, if you have a heavy face, a straight parting will soften the shape of your face. If you have a long face, a slanted parting will visually slim it down and accentuate the beauty of your eyes. Try and see what kind of parting you feel best in. It's amazing, but it can really help you feel like a different person. And you won't have to decide on a dramatic haircut.
Add texture
If your hair is the same length, consider adding a few layers. The craftsman can do a filleting to give your hair a more natural look and soften the contour. He can also lush the top of the top to make the hair look more voluminous. Think about the look you want to create and consult with the master about how to add texture to your hair.
Think about bangs
A woman looks different with bangs – that's a fact. You may not want to change the length of your hair, but you can trim or file your bangs. Bangs can also be styled in different ways: you can volumize it, smooth it out with a bang iron or curl it with a curling iron. There are different types of bangs for any image: retro bangs, long wide bangs, etc.
Curl your hair with a hair dryer
Curls or straight hair? As a rule, girls radically change their hair, but after a few months dream of returning to the previous hair texture. Chemo, straightening, aggressive beauty products – is it necessary to take such a risk? You can see if curls will work for you by styling with a hairdryer. 
Add highlights or change color
You can use a toner to enhance the color, to make it more voluminous. You don't have to completely repaint your hair – you can repaint a few strands, use a balayage or ombré technique if you're not sure you want to drastically change your look.